Home Life Earth Air Fire Water
---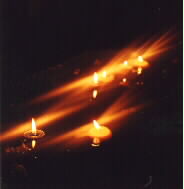 FIRE
CONTENTS
---
CO-OPERATIVES
The International Co-operative Alliance definition of a cooperative is:

A co-operative is an autonomous association of persons united voluntarily to meet their common economic, social, and cultural needs and aspirations through a jointly-owned and democratically- controlled enterprise.
Co-operatives are a legal structure which can be used to provide services to members (eg housing, childcare, credit), to operate worker owned businesses and retail outlets, and to provide for common ownership of equipment. They differ from companies in that voting is not related to number of shares held- in co-ops it is one member one vote.

Articles
1. ICA 7 Co-operative Principles
2. Co-operatives: an overview


I.D.E.A.S. Co-operative
The IDEAS Co-operative, based in Brisbane, aims to create Integrated Development of Ecocities through Actions and Services. It provides equity based housing to members and supports other projects to improve the urban environment.
Articles
1. I.D.E.A.S. Co-operative
2. I.D.E.A.S. Co-operative Rules


Cooperative Community Council
The Cooperative Community Council, founded in 1990, is an independent cooperative association for members and supporters of the S-E Qld region's community-based cooperatives.
The Council focuses on education provision, inter-cooperative networking and co-ordination, regional development issues, political advancement and legislative matters in relation to community cooperatives.

Links to other sites on Co-operatives
Australian Co-operatives research and development centre. Articles, links, research papers.
Qld peak body for community Housing providers, including rental equity Housing Co-operatives. Articles, links

The international umbrella body for co-operatives. Newsletter, events, links

A United Nations Committee. Guidelines for governments dealing with Co-operatives

The Co-ordinating Committee of EEC Co-operative Associations

A United States peak organisation. Articles, links, resources

Canadian Federal government site, focus on agricultural and rural co-ops.

University of Wisconsin site with papers and news on co-ops inthe US.

Educate, Agitate, Organise. Focus, Integrate, Participate.
---
Home Life Earth Air Fire Water
---